I'm not sure why but we don't really eat turkey any other day of the year besides Thanksgiving. It's definitely not something we whip up on a Tuesday in July. Does this happen to anyone else? So when Thanksgiving rolls around we always make a giant turkey to make sure we have leftovers for days! I love to find new and different recipes to use up that leftover turkey because by lunch on day 3 I'm pretty tired of turkey sandwiches.
Since I'm always looking for inspiration I wanted to round up some of the yummiest Thanksgiving leftover recipes I found on my journey through the Pinterest looking glass. From stuffing to mashed potatoes to turkey these leftover recipes will have you wishing you'd made just a little bit more just so you could've saved it for the day after!
I'm not a huge stuffing fan unless you've completely drowned it in gravy but these Stuffing Muffin Cups from Confessions of an Overworked Mom are a fantastic way to use up any leftover stuffing!
Ok, it's still technically a turkey sandwich but this Turkey Cranberry Panini from One Artsy Mama made my mouth water!
I saw the word "tacos" and I knew I wanted to try these Turkey Tacos with Cranberry Salsa from Just Us Four!
Considering we got some snow on Wednesday I'm all about soup. This Turkey and Wild Rice Soup from Self Proclaimed Foodie looks just right for all that ails me as winter settles itself in against my will!
I didn't even know what Turkey Picante Pie was until I clicked through to another delicious recipe from Just Us Four. Now I can't wait to make it with my leftover turkey!
I've never actually made Shepherd's Pie with Thanksgiving leftovers but the votes for it are overwhelming if Pinterest is any indication and this version from The Hopeless Housewife looks so yummy!
Chicken pot pie is my jam so when you use Turkey AND Bacon? Yes please! And that buttery flaky crust in this Turkey Pot Pie from The Silly Pearl looks to die for!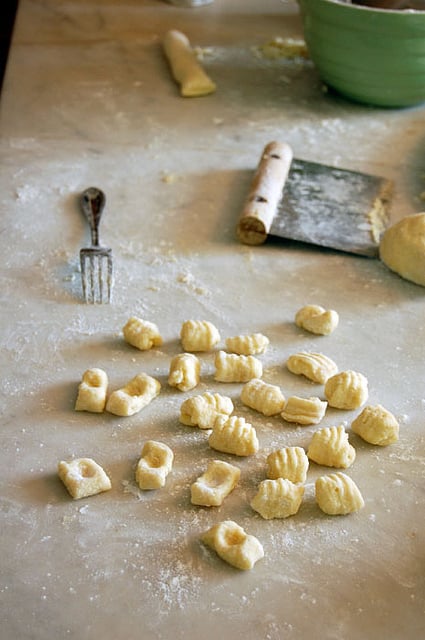 Chicken and gnocchi soup is just perfection when it comes to comfort food. But Homemade Gnocchi using leftover mashed potatoes! I can't wait to make this recipe from The Heart of Doing Stuff!
So many delicious recipes, so few leftovers! I may have to wrestle some of these ingredients away from my family so that I have plenty to get creative with.
What's your favorite way to use up your Thanksgiving leftovers?